Testimonials
Bipin Parmar Burnley – June 2018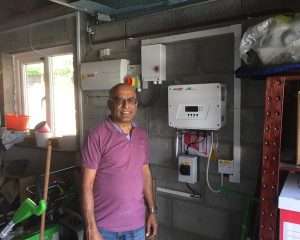 "I would like to thank Michael for the excellent work he did for me recently. His knowledge and advise regarding the solar power system is excellent. Since he replaced the new inverter and adding optimiser, we have generated more energy from solar panels than before. I would recommend to anyone who would like to install a solar system."
David Leggett Padiham – May 2018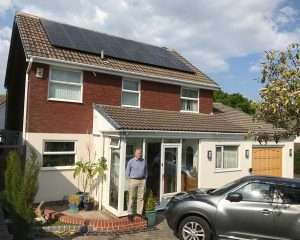 "As promised, I've just had my first quarter results since you fitted the Solar Edge conversion and the results are staggering the efficiency of the panels has gone from 18% to 104% these are British Gas figures not mine, and the FIT payment from £58.23 to £473.83. I know the previous quarter was winter months but you converted our array on the 16th February so still not into summer quarter by a long way. Thank you very much for the very speedy and efficient Solar Edge conversion I'm very impressed and satisfied with your advice and installation."
Dave from Peter Hope Structures Ltd – November 2017
"To Solar Safeguard (NW) Ltd.
We were very happy with the repair works undertaken by Michael. He was always prompt despite travelling some distance to carry out the works. He explained at all stages of the work, why and what he was doing and gave us all the options. In the end new inverters were required which were installed neatly and within a week of our decision. We would definitely recommend Michael for any solar repair or installation works."
Val & Dave Howard from Wigan – May 2017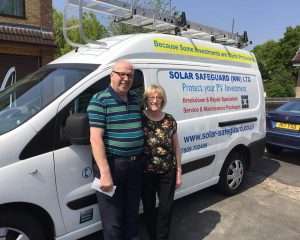 "To Mike of Solar Safeguard (NW) Ltd.
Thank you very much for your excellent work, help and advice today, concerning our solar panels.
We are very pleased with the result and be happy to give your details to other potential customers."
Allen Roochove Retired Headmaster – September 2016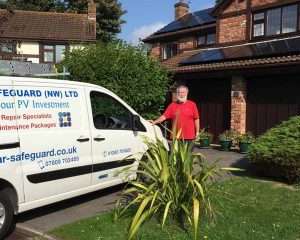 "Having invested a lot of money to have solar panels installed last year I was somewhat dismayed to learn that the firm who installed them has now ceased trading – due to the Government having hugely reduced the 'Feed-in Tariff'.
I was planning to have them do an annual maintenance/ clean of my whole system.
However, the 'Good News' is that Mike Bailey, who was the Installation Manager for a large UK based Solar Energy company, has now formed a new company, 'Solar-Safeguard', and offers a complete annual maintenance and cleaning service at an extremely good price.
Today 'Solar-Safeguard' did my first annual clean/ maintenance of the system – friendly, efficient and highly professional, I recommend the firm without reservation."
Mr & Mrs Clegg – September 2016
"Just a few words to say how pleased we are with the service we received. The service man turned up on time and did an excellent job."
David and Gill Diggins from Fence, Burnley – July 2016
"My wife and I decided that we should make a move toward renewable energy for both financial and ecological reasons for the future. We decided upon a local supplier who arranged one of their sales / surveyors to visit us and talk over the details, answer our many questions and recommend a system that would meet our needs. At the outcome of this meeting we signed up for our system with 15 solar panels. Initially we thought this would be a lengthy operation but on the following Saturday Michael and his colleague turned up to install our system.
It was obvious from the start that Michael was someone who takes pride in his work and before you could say "solar energy" he announced the completion of the job and that he would like to go over the operation with us. The job was neat and our house left totally tidy as we sat back and to enjoy the benefits of our new system. Some months in and the system has performed faultlessly with great results. However we were shocked to learn that the installation company had recently ceased to trade and felt we had been left "High and Dry" You can imagine our relief to be contacted by Michael to assure us he would be continuing the service and support of his installation through his own venture called Solar Safeguard (NW) Ltd.
We are fully confident in the quality and service he will provide his clients and wish him every success."
Michael from Great Harwood – June 2016
"Mike Bailey at Solar Safeguard (NW) Ltd has become my electrician of choice over recent months. His work is always top notch and at very reasonable rates. He is always friendly and cheerful to deal with, but most importantly he is reliable and always arrives when he says and keeps in touch.
I can't recommend him highly enough for all electrical work related to solar generation, power and maintenance."